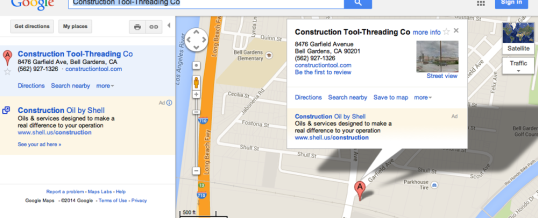 If you're looking to get found on Google, there's a good chance your business isn't just a website, but also a location. 20% of searches on Google are related to location, and 97% of consumers search online for local businesses. Lots of small businesses are looking to the web to boost the visibility of their brick and mortar establishments.
It's important that your business has its own website. Your website should include all the essential information potential and current customers would want to know about your business, such as your history, loyalty programs, unique events, or staff information, locations – how to find you.
Having a presence on social media is an essential way to reach your local community. Social media allows you to engage with your customer base by sharing timely announcements and promotions, listening and responding to customer feedback, and giving customers an easy way to recommend your business to their friends.

Local Search Is Vital In Generating Leads
Local searches differ from conventional searches in that you are adding a "where" component such as an address, a city or a zip code to the "what" component (keyword, product, service etc) that you are looking for. For years, these searches have often been dominated by national competitors: large directory sites with thousands of pages and other non-local company powerhouses. Now, the game has changed and search engines want to feature your local business, your products and your services.
Those companies without a local presence are finding it harder and harder to compete for these valuable searches – searches that are increasingly being performed from smart phones and other mobile devices by consumers who are immediately looking to make a purchase.
Why the focus on Local Search?
Consumers have always been in the need for local products and services. What's changed is their behavior and the tools they use to perform local searches. Traditionally, local directories like the yellow pages along with newspapers and local magazines supplied this information but the digital age has changed all that. Computers and search engines have replaced the yellow pages and increasingly smart phones and other mobile devices are your computer. When was the last time you picked up a copy of the yellow pages to order food, look for a local service or product?
What's currently happening online is that many sites are battling the search engines for your local attention. While Google is still dominant (and has been since rolling out Google maps in 2004 and now Google+ this year) the landscape has changed: in addition to Yahoo! and Bing, many new local options like FourSquare, Yelp, Merchant Circle and Urban Spoon are giving consumers what they want – reviews and feedback on local merchants and their services or products.
Google's focus on local businesses has resulted in a dramatic change in search results compared to the past. Geo-targeted searches return Google maps listings that level the playing field for small businesses that have one huge edge over national competitors: a local address. Without the, all important street address, it makes little difference how much money these companies throw at Search Engine Optimization. You can rank well and get in front of potential customers when and where they are shopping. This makes local search one of your most powerful tools for building brand awareness and establishing credibility and authority.
All of this focus on local search means that now is the perfect time to roll out a local Search Engine Optimization strategy and grow your business.

What is a Local Search Engine Optimized Website?
A Local Search Engine Optimized Website is a website that is setup to target specific local keywords or phrases in the search engines.
As an example, the search term "mobile screen repair" would be the main keyword or phrase. We then take this one step further by adding a specific area to the search, in this example "in los angeles" This will form a search phrase "mobile screen repair los angeles" which will bring targeted visitors to the website that are looking for "mobile screen repair in los angeles" (We call this "GEOLocal Keyword targeting")
This is ideal for businesses and is an extremely easy way to generate Local targeted leads to your products and services.
Share